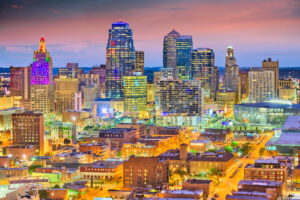 As a company that has been serving the Kansas City region for 94 years, Cornell Roofing and Sheet Metal has seen many changes through the years. We've played a role in helping build the Kansas City skyline you see today. Our industry has grown and remained strong due in large part to the early development of trade groups, such as the Builders' Association and the National Roofing Contractors Association (NRCA) – some of the oldest industry associations in the country.
In 1887, a group of construction industry representatives came together to form the Master Builders' and Traders' Exchange in Kansas City, Missouri. This evolved to become the Builders' Association and remains headquartered in Kansas City. The mission of the Builders Association is to provide high-quality and valued services that contribute to the betterment of their individual members and the construction industry overall. They offer a broad range of support services and resources for every facet of the construction industry, including everything from education and safety to government regulations and marketing.
In 1886, the National Roofing Contractors Association (NRCA) was established. NRCA is headquartered in Rosemont, IL and is a central source for informational, educational, technical and advocacy resources for their 3500+ roofing industry members across all 50 states and 53 countries worldwide.
While entrenched in history, these organizations are shepherding advances in the roofing industry. Their support, insights and resources are vital to companies like Cornell in our efforts to drive continual improvements for safety and quality. Trade organizations help build the foundation for success across for roofing contractors and the construction industry as a whole.
To learn more about Cornell Roofing and Sheet Metal, visit www.CornellRoofing.com or call 816-252-8300.