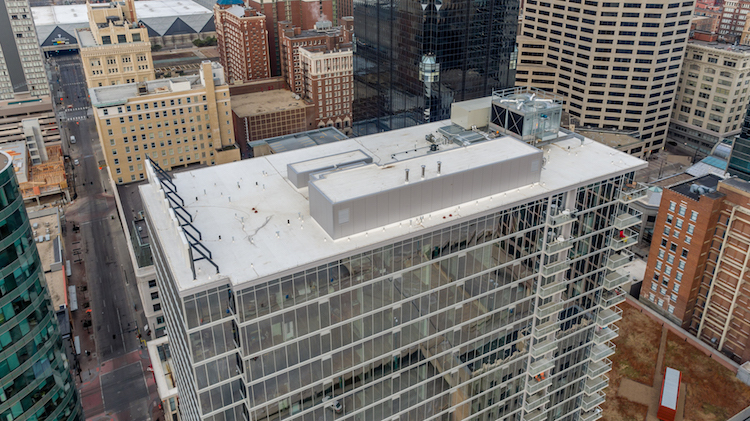 Commercial Roofing
Cornell's skilled, professional teams can install any commercial roof. Our expert crews receive continuing education and ongoing training and are equipped with state-of-the-art equipment. From Kansas City's urban high-rises to large-scale industrial manufacturing plants, Cornell's professionals understand the latest roofing services, commercial roof systems, roof replacement options and commercial roof maintenance best practices.
We are proud to use the most advanced supplies and products from the best brands in the industry, including Carlisle, Derbigum, Firestone, GAF, Johns Manville, Sarnafil, Siplast, Tamko and Tremco. With Cornell's educated, experienced team and our commitment to using the best brands in the business, we are able to ensure top-quality results and peace of mind for our customers.
Cornell Roofing and Sheet Metal's commercial roofing experts have the training and experience to handle the most in-demand and highest quality installs including:
• Built-up Roof Systems
• Daylighting Systems
• Flat Roof Systems
• Green Roof Systems
• Metal Roof Systems
• Modified Bitumen Roof Systems
• Single-ply Roof Systems, EPDM, TPO and PVC
• Skylights
• Vegetative PVC
Cornell Commercial Metal Roofing Systems
From design, construction and installation to metal roof repair and maintenance, Cornell Roofing and Sheet Metal's full-service commercial sheet metal shop produces top-quality results. Our foremen, staff and field superintendents personally focus on each detail, no matter how small. You may never notice some of these touches until after our installation team is long gone – but we believe this type of workmanship, especially when it's a detail others might overlook, represents integrity you can count on. Every day and on every job.