Each year in March, the National Association of Women in Construction (NAWIC) designates a week as Women in Construction Week™, to promote the role of women in the construction industry. As a woman-owned and operated company, Cornell Roofing & Sheet Metal knows first-hand the value and importance women play in our industry.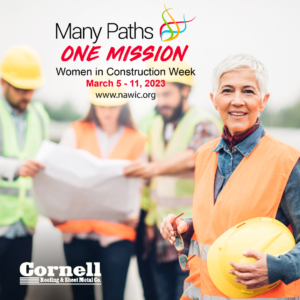 Overall, women accounted for 14% percent of the entire U.S. construction workforce in 2022, per the Washington Post. This number has been steadily growing over the past few years. This growth can be attributed to several factors, including the industry's increasing demand for workers, industry-wide efforts to remove hurdles and actively recruit more women, as well as expanded skills training and education.
The construction industry is also leading the way for pay equality. On average, women in the U.S. generally earn 82.9 percent of what men make. In construction jobs, the gender pay gap is significantly smaller, with women earning 95.5 percent of what men make on average.
To learn more about events and activities happening during Women in Construction Week™ March 5-11, 2023, www.wicweek.org
For information about Cornell Roofing and Sheet Metal, visit www.CornellRoofing.com or call 816-252-8300.