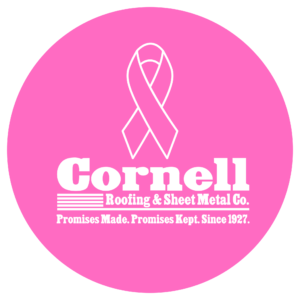 Since 1985, October has been recognized as Breast Cancer Awareness Month. Cornell Roofing and Sheet Metal has participated in events and efforts to raise awareness in years past, but this year the commemoration holds extra significance for the team. This summer, our Owner and President, Mary McNamara was diagnosed with breast cancer and is currently undergoing treatment. Mary's prognosis is good and she is a fierce fighter. All of us here at Cornell Roofing & Sheet Metal are looking forward to Mary's full recovery.
This month, we celebrate breast cancer survivors and those with breast cancer and encourage them to share their stories. We also encourage you to take action to protect your own health and support efforts to raise funds for breast cancer research and other related causes. True to Mary's generous spirit, she has initiated an effort to give back, even during her own battle. Mary provided special, limited edition t-shirts to the team and is donating all proceeds from sales of the shirts to KU Cancer Center to support research. You can purchase a shirt or donate online at https://cornellroofing.com/breast-cancer-awareness/.
Breast Cancer Awareness Month is a chance for all of us to take time and acknowledge those men and women whose lives have been affected by breast cancer. For additional resources, visit the National Breast Cancer Foundation at https://www.nationalbreastcancer.org/. Together, we can knock out breast cancer!