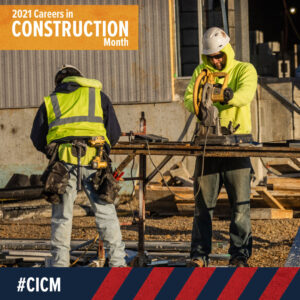 Careers in Construction Month is an annual month designated to increase public awareness and appreciation of the more than five million construction craft professionals working in the United States. Skilled trades professionals are in high demand, with some industry analysts predicting the construction industry will need one million new craft professionals by 2023.
Cornell Roofing and Sheet Metal is proud to participate in efforts like this to honor the men and women working in skilled trades careers, and the critical role they play in the development of our local cities and nationwide economy. We also understand the importance of engaging students and job seekers to educate them on the vast employment opportunities in construction. Cornell supports scholarship programs leading to careers in construction, which can be long-term, lucrative and rewarding opportunities. 
Cornell's nearly 95 years of success in Kansas City construction comes from the skilled craftsmanship and dedication to excellence that has carried through generations of Cornell crews. This month, and all year through, we celebrate our hard-working teams of skilled trades professionals. Thank you for your expertise and commitment to delivering unmatched quality for our customers. We appreciate you!
For more information on Cornell Roofing and Sheet Metal, visit www.CornellRoofing.com or call 816-252-8300.