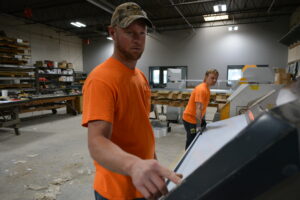 Many folks know Cornell has been a leader in commercial roofing in Kansas City for nearly 95 years. Some may not know that we also operate a full-service commercial sheet metal shop. Our General Superintendent has over 40 years of experience bringing design and function into perfect harmony to deliver optimal results. Our sheet metal team is critical in ensuring our roofs stand up to the toughest conditions.
The Cornell sheet metal team has earned a reputation for providing innovative design and installation solutions. In fact, Cornell Roofing and Sheet Metal received the prestigious AIS Award for Workmanship for our work on the Truman Medical Office Building in Kansas City.
Cornell's sheet metal experts can design and construct any type of flashing, counterflashing, roof spouts or downspouts needed to make our roofing systems watertight and operating at peak performance. Our shop can also handle any type of metal wall panel design, construction and installation. 
For more information on Cornell Roofing and Sheet Metal, visit www.CornellRoofing.com or call 816-252-8300.